Brookwood Hills - Featured Buckhead neighborhood
Posted by Intown Elite on Wednesday, April 7, 2010 at 10:59 AM
By Intown Elite / April 7, 2010
Comment
This month's Buckhead neighborhood profile is Brookwood Hills. Developed in the early 1920s, historic Brookwood Hills is located near the dividing line between Buckhead and Midtown, just north of the "Brookwood Split". Like many of the neighborhoods in this area, The Battle of Peachtree Creek occurred on part of the grounds of Brookwood Hills. The area was later named after the estate of Joseph and Emma Thompson, known as "Brookwood", which was located near where Brookwood Station is today.
The developers hired engineer O.F. Kauffman, who had previously worked with Frederick Law Olmsted in the design of an earlier Intown Atlanta neighborhood; Druid Hills. Olmsted preferred wide, wandering, curvy roads versus the more planned grid layout of some neighborhoods. Olmsted's influence can be seen in other area neighborhoods including Ansley Park, and Morningside in Intown Atlanta as well as Garden Hills and West Paces Ferry in Buckhead.
The neighborhood is now well known for its canopy of what now appears to be old-growth oak trees, trees which were originally planted along the original streets by the developers, the father-and-son team of B.F. Burdett and Arther Burdett. The neighborhood boasts a diverse variety of architectural styles, which vary based on the various phases of development. The first two phases occurred in the 1920s and included styles that were popular at the time including Colonial, Georgian and Tudor Revival styles. The third phase of development was during the 1930s, and included smaller Bungalows built during The Depression and pre-World War II era. The last phase occurred in the 1960s and included traditional two-story homes.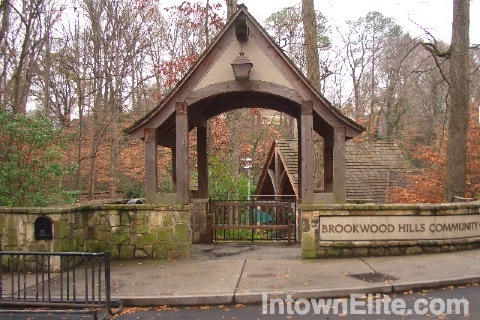 Brookwood Hills Community Club The Brookwood Hills Community Club is the envy of many surrounding neighborhoods.
Amenities include a beautiful park, swimming pool and tennis courts. The club is also the location for popular weekly neighborhood gatherings called "Friday Nights at the Pool." Technically non-residents can join the BWHCC, but the waiting list is so long that currently they aren't accepting any new applicants. Residents of Brookwood Hills, however, have the luxury of joining with no waiting. At the time of this writing, there are 25 homes for sale in Brookwood Hills. List prices range from just under $500,000 to well over $2 million. Below is a sampling of the newest home listings in Brookwood Hills. For more detailed information on the neighborhood and advanced search tools, visit our Brookwood Hills Homes for sale page.