Don't let national headlines scare you - All Real Estate is local
Posted by Intown Elite on Friday, August 15, 2008 at 7:22 AM
By Intown Elite / August 15, 2008
Comment
Hi there, and welcome to our first blog post! I want to start off on an issue that has been on the forefront of my mind for a while now. Seems like you can't turn on the news or read a paper these days without reading a headline implying that the sky is falling in regards to residential real estate. One must always remember the expression, "All real estate is local." There is a huge difference between the "bubble" markets of Florida, California, Las Vegas, etc., and Atlanta ... especially Intown Atlanta!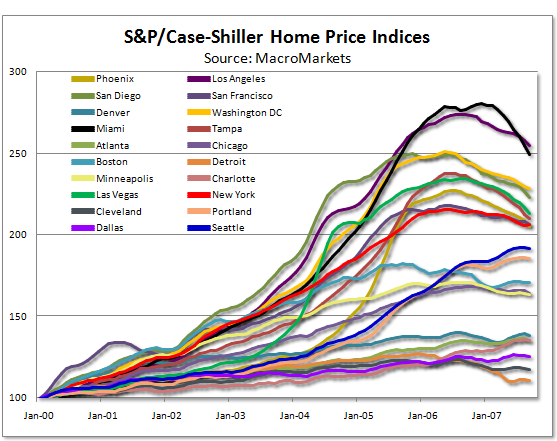 Image: Atlanta is in hunter green, near the bottom. Click for larger view.
First of all, Atlanta is not a "bubble" market. We did not have the "irrational exuberance" indicated by a huge run-up in prices over a short period of time. Since we didn't have a bubble, there's no bubble to burst! Sure, sales have slowed down, but we are not seeing the decline in values that the bubble markets are seeing. Now, this is not to say that we can't have a decline in prices at some point in the future if, for example, the economy as a whole slips into recession. But if we do, it's not likely to be as bad as the aforementioned bubble markets.
Intown Atlanta is even more different! The suburban Atlanta real estate market is struggling a bit. It's all about supply and demand. Let's say you have a home to sell in your suburban neighborhood. Next door, a developer starts a new subdivision of 250 homes. There's 250 more homes on the market, adding to the supply and competing with you to sell your home. Even if demand stayed constant, the increase of supply would drive prices down.
By contrast to the suburbs, there are virtually no plots of land in Midtown or Buckhead large enough to develop large new single-family subdivisions. Like waterfront property, "they're not making any more land" in Midtown or Buckhead. Therefore, unlike the suburbs, a single family homeowner in Intown Atlanta is not "competing" with new construction in the marketplace. The only single-family new construction in Midtown and Buckhead is "infill construction", where an older house is torn down to build a new one. This scarcity of newly constructed homes in the area means that newer and renovated homes yield a premium in the marketplace.
Let's take, for example, zip code 30309. This is a good representative zip code, covering the heart of Midtown and extending north into the southern portion of Buckhead. Here are the average sale prices for homes sold in the last few years in 30309:
| | | | |
| --- | --- | --- | --- |
| Year | Average Price | Homes Sold | Days on Market |
| 2005 | $711,740 | 66 | 89 |
| 2006 | $735,262 | 107 | 90 |
| 2007 | $806,313 | 117 | 105 |
(Source: FMLS)
As you can see, prices of single-family homes in this area have continued to appreciate, even after prices started to fall in other areas of the country. Checking the days-on-market, once can see that it is taking a bit longer to sell. But despite this fact, the values are still appreciating, and in fact, there have been more sales each consecutive year!
Of course, we have not closed the book yet on 2008, so we can't make an apples to apples comparison yet. But I can give you a snapshot of what we know to date, as of 8-15-08. So far this year in zip code 30309, 67 homes have closed with an average price of $775,619, and 9 properties are under contract with an average price of $979,877. So, we won't know the full story is until all the numbers are in, but so far, it appears that values are holding for single-family homes in 30309.
Condos - Strong Buyer's Market
Condos are a bit different than single family homes. Development of Midtown and Buckhead condos has been prolific in the last few years. Because of that increase in supply, a great opportunity exists for condo buyers to find great deals. Developers have been offering great upgrades, paying closing costs, and being more negotiable on price than in the past. Sellers of existing condos have to compete with the developers, so they are offering great deals, too.
Great time to buy
Basically, if you are a qualified buyer, now is a great time to buy. Since the sub-prime debacle, lenders have tightened requirements for mortgages. That has removed a portion of the demand in the market, giving even more leverage to qualified buyers. Basically, the buyers have the power in this market. While this is not the greatest news for sellers, if you are moving up to another home in the same market, you'll more than make up for it when you buy your new home. Couple that with interest rates remaining at historical lows, and you've got a great time to buy real estate in Intown Atlanta.
Anyway, as you can tell, we're bullish on Intown Atlanta real estate. That's why we bought our home here, and that's why we have focused our business on this area. If you're ready to buy or sell, feel free to contact us at your convenience. If you're just starting the shopping phase, feel free to start looking at homes by clicking here.