Intown Atlanta Spring Festivals
Posted by Intown Elite on Wednesday, April 14, 2010 at 9:07 PM
By Intown Elite / April 14, 2010
Comment
Well, what seemed like Atlanta's worst winter in over 20 years is over, and spring has finally sprung. That means, among other things, that spring festivals are just around the corner in many Intown Atlanta neighborhoods. The first four major events kick off this weekend.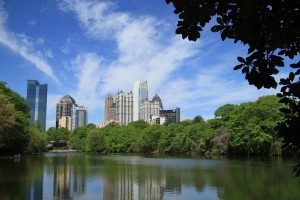 The biggest event this weekend is the popular Atlanta Dogwood Festival. Held at Piedmont Park in Midtown Atlanta, this annual celebration of the blooming of the Dogwood trees has been a perennial favorite in Atlanta for over 70 years. In the 1970s an art show was introduced to the festival, and the juried Fine Art Market has played a big part in the festival ever since. The 1980s saw the tradition of live music begin at the Dogwood Festival, and this year is no exception with well over a dozen acts playing this weekend.
Another fun even this weekend is the 6th annual Sweetwater 420 Festival, a two-day music and arts festival. It's free to attend and enjoy live music and activities, and $5 gets you a wrist band that allows you to buy all the wine and Sweetwater beer you can "responsibly enjoy." A portion of the proceeds go to back to the Candler Park neighborhood which hosts the event. A big part of the event is "Planet 420", which sponsors local, regional and national non-profits and environmental organizations. Exhibits and forums will be presented including diesel to grease demonstrations, sustainable living forums, solar energy exploration, alternate transportation in Atlanta, Georgia's Energy Future, water conservation and more.
For those with real estate on their minds, these next events are for you. If you're already in Midtown for the Dogwood Festival this weekend, check out the Midtown Tour of Homes. This year the tour includes only one single-family home, instead consisting almost entirely of Midtown Atlanta condos. Also this weekend is the Druid Hills Tour of Homes and Artist Market. This year's theme is "Only on Oakdale", featuring stately Tudors, traditional Georgians and charming Bungalows all located on, you guessed it, Oakdale Road. If, after touring these gorgeous homes, you fall in love with the neighborhood, you may find yourself shopping for Druid Hills homes for sale.
There are more events upcoming throughout the spring, and we'll tell you about more of them next week. In the mean time, get out there and enjoy the beautiful spring weather here in our lovely city of Atlanta!
Photo Courtesy of Laura Miller