Intown trend spells the end of sprawl in Atlanta
Posted by Intown Elite on Thursday, May 15, 2014 at 6:30 PM
By Intown Elite / May 15, 2014
Comment
Could it be that, along with the increasingly popular trend of living "intown," now sprawl in Atlanta has ended? That's the conclusion of a report from the School of Business at George Washington University. Report author Christopher Leinberger, a professor of urban real estate and chair of the Center for Real Estate and Urban Analysis at George Washington University told USA Today, "Atlanta has reached peak sprawl. This is the end of that trend."
Walkable intown communities are preferred by young professionals and by high-tech businesses over automobile-dependent suburban neighborhoods. As we've mentioned previously, neighborhoods near downtown Atlanta have seen a 61 percent surge in young professional residents who have at least a four-year degree since 2000. These kind of communities, which comprise less than 1% of the Atlanta region's land area, accounted for 60% of the growth in income-generating real estate (offices, retail spaces, rental apartments and hotels) over the past four years, Leinberger said. This trend has steadily and rapidly increased in each of the last three real estate market cycles. Further, real estate products in established walkable intown communities command rents that are 112% higher than those in drivable suburban areas.
Of course, this doesn't mean that all of the sprawl that has occurred over the last several decades will somehow magically vanish. A drive from Lake Lanier to the airport during a Friday-500 rush-hour will remain an experience you'll want to avoid at all costs, if you wish to retain your sanity. So that won't change, but as Leinberger says, "The pendulum is now swinging in the other direction." He continues, "Despite Atlanta's reputation as a sprawling, auto-oriented region, the metropolitan area has already begun adjusting to the walkable urban trend on the ground in a surprisingly rapid manner."
The Walkable Urban Structural Shift
The report makes the following points:
There is a game-changing structural shift underway in real estate.
New research reveals how walkable urban places and projects will drive tomorrow's real estate industry and the economy.
Different public policy and real estate strategies are needed to take advantage of these market trends.
What was perceived as a niche market has become the market.
"Starting in the mid-1990s, walkable urbanism has become the dominant development pattern in Atlanta—and many other metropolitan areas in the country. Going forward, walkable urbanism is the driving force in real estate."
The report coins the term "WalkUPs," for "Walkable Urban Places". It states that there are seven types of regionally significant WalkUPs in any metropolitan area, and Metro Atlanta has at least one example of each.
IntownElite.com helps you find a walkable home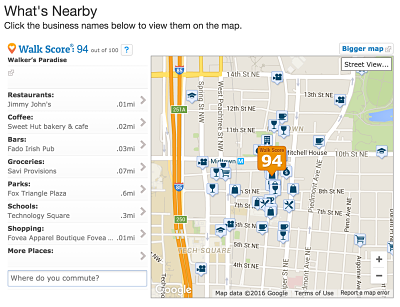 We believe factors outlined in this report underscore the benefits of investing in real estate inside the perimeter of Atlanta. Couple that with the fact that Atlanta remains the top destination for movers, and you've got If you're looking to take advantage of this trend and buy a home in a walkable intown community, you've come to the right place. Each listing includes a WalkScore map showing how walkable the home and nearby ameneties. Check out these powerful home search features today, and let us know if you need any help!