"I'm looking for a really good deal." That's what just about every buyer says when they first speak with us about buying a home. Not that they're looking for a particular style of home with a specific number of bedrooms or baths, a specified location or even whether it's a condo, townhome or single-family home. We're finding that buyers are focusing more on the type of deal they can get rather than what attributes they really want in a home.
Of course, everyone wants a good deal, but it's important not to get so tunnel-visioned that you miss out on the perfect home for you, because you're holding out for the deal of the century. Do you want a good deal on a home you love, or a great deal on a home that's just OK? You have to live there. If you don't love it, is it really that great of a deal?
Waiting for the bottom? Many folks are sitting on the sidelines, waiting for the bottom of the market before they'll jump in. If that sounds like you, how will you know when the market has bottomed out? Market timing is a tricky game to play. Check out the graphic below: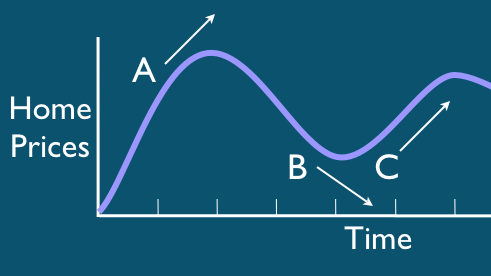 Let's say the graphic represents the housing market. Although the market is cyclical, with ebbs and flows,, most people tend to think in a straight line. Point A was near the peak of the market. Although the market was overinflated, many people thought that prices would continue to climb. This was a contributing factor to the "bubble" that occurred in some markets.
Then, the market began to take a turn in the opposite direction.. Let's say that now we're at the other end of the spectrum (point B). The market has turned downward and people wonder if we're near the bottom. The big question on everyone's...