Online Home Valuations - Are They Any Good?
Posted by Intown Elite on Monday, October 18, 2010 at 10:18 PM
By Intown Elite / October 18, 2010
Comment
When it comes to selling your home, there are many facets to consider. The timing of your move, prepping your home, how to market your home and countless other considerations. One might say, however, that the most important consideration is setting the listing price. In our experience, we have found that many sellers use flawed assumptions when determining their listing price. WIth this post, we begin a series of articles on the topic of pricing your home for sale.
There are many options one can use to help determine the value of a home. One option that has become more popular lately is the so-called "online valuation." There are several websites, (such as Zillow, HouseValues, etc.) which claim the ability to determine the value of your home. So, how do they work, and are they any good?
These online valuation sites fall into two basic categories. The first category of sites are those that use a mathematic algorithm to calculate a value for your property. The problem with this method can be distilled into an acronym well-known in the computer industry: GIGO, or Garbage In, Garbage Out. This means that incorrect or poor quality input will always produce a faulty result. The "garbage in" stems from the data that is used in the calculations. Where do they get this information? Well, typically they use publicly-available information, such as tax records. The problem with that is, tax records are notoriously outdated and inaccurate, especially in Atlanta.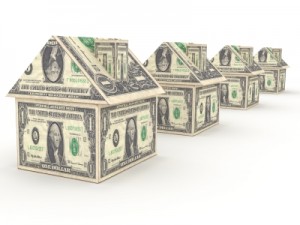 Another problem is that the homes in Intown Atlanta neighborhoods are not homogeneous. These are not the cookie-cutter neighborhoods of the suburbs, where many houses are virtually identical. It's fairly easy to determine value in a neighborhood where all the homes were built by the same builder, in the same year, and where one in five of them have the exact same floor plan. Just find a number of recent sales and take an average. Of course, that does not describe Intown Atlanta or Buckhead neighborhoods.
What makes Intown Atlanta and Buckhead homes appealing is the same thing that makes it difficult to determine their value - they're all different! Two houses that may look identical to a computer may be dramatically different in reality and have dramatically different values. The public records may show two houses that were both built in the 1940s, each with two bedrooms, one bathroom and 1,400 square feet of living space. And perhaps that's still true for "house A," but maybe the owners of "house B" have expanded out the back and added a second story addition. Now it's a four-bedroom, three-bath home with top-of-the-line renovations. While the "comparable" house sits untouched. The public records should have been updated, but all too often they are not. So, the home valuation website assigns both homes the same value.
Sure, that's a dramatic example, but even smaller differences can have a big impact on value. Yes, some of these sites allow you to adjust for differences in your property, but that does nothing to make up for erroneous information about the so-called comparable properties. On a home that should be priced in the $400's, I have seen valuations from these sites that are off by well over $100k in either direction. That's 25 percent off!
But don't take my word for it. Here's a post from Zillow's own blog discussing the sale of Jennifer Lopez's house. The property sold for $7.5 million, while Zillow's "Zestimate" was under $6 million. So, Zillow was off by a mere $1.5 million. Sure, that may be hard to grasp for us Regular Joe's, but apply a 20 percent error to your house and what do you get? Let's bring this closer to home. I pulled a list of homes that have recently sold in our area of specialty, roughly a 5-mile radius from the Brookwood Split. I pulled out three sales at random and compared their recent sold prices to their current Zillow Zestimate. Here's what I found:
1745 North Pelham Road in Morningside, sold on 09/02/2010
Sold price: $722,500
Zillow Zestimate: $601,000
805 Amsterdam Avenue in Virginia Highland, sold on 01/21/2010
Sold price: $530,000
Zillow Zestimate: $647,000
309 North Garden Lane in Loring Heights, sold on 08/18/2010
Sold Price: $525,000
Zillow Zestimate: $372,000
And these are not isolated cases. Here's another blog post detailing the debacle that occurred when Forbes.com used Zillow as the source for their article on the "Ten worst real estate markets." Zillow's erroneous data caused Forbes.com such embarrassment that they had to retract the article. Forbes has since ceased using Zillow for their real estate data.
Then there's the second category of online valuation sites. These sites lure you in, having you fill out information about your home, giving you the impression that they're about to magically and instantly tell you the value of your home. Then, after you submit all of this personal information over the internet, they tell you a real estate agent will contact you. You see, these sites are actually in the business of selling "leads" to real estate agents. After you put in your personal information, they contact an agent on their list and say, "Hey agent, John Doe wants to know his house value. Maybe he wants to sell. We'll sell you his contact information for a fee, and you can try to get him as a seller client."
I'm sure you know by now that I'm about to tell you that using a real estate agent or broker is the best way to determine your home's value. So if this website is going to set you up with a real estate agent, what's wrong with that? Well, maybe nothing. But how well do you know the agent they're selling the lead to? Does he or she have any real knowledge about your neighborhood? Has this agent ever even been in your neighborhood? The valuation website employee may be sure to put you in contact with an agent who has listed "Atlanta" as part of his or her service area. But Metro Atlanta is huge, expanding far Outside the Perimeter (OTP). For example, an agent who normally works in Marietta, but buys a lead in Virginia-Highland may not realize the extent to which homes in Virginia Highland can differ from each other. If that agent applies his or her standard pricing method used when pricing homes in the suburbs, the valuation could be way off. Obviously, that can have a real impact on properly pricing your home and ultimately selling.
There's no substitute for local market knowledge. There's simply no way to be an expert in all of Atlanta. It's just too big. If you have an Intown home, your best bet is to use an Intown agent. And since you're reading our blog, you've already found one! If you'd like to contact us about selling your home, feel free to call us at 404.478.7800 ext. 2. Or click here fill out out the contact form, and we'll get right back to you!