If you're involved in the Atlanta residential real estate market in any capacity, buyer, seller, agent or other, you've noticed that something has changed over the last year. The market has shifted significantly. Homes are selling fast, and I mean crazy-fast. What's "crazy-fast?" Days. Sometimes just one day. Sometimes not even a day. Often with multiple offers. I've experienced faster than expected sales recently on both sides of the transaction, on my own listings and when representing buyers. And from speaking with other agents around time, I'm not alone. "Sure," you might say, "that's anecdotal evidence, but is it really true for the Atlanta market as a whole?" I looked at the numbers and here's what I found.
I checked the FMLS records over the last 3 years to see how many homes sold each year in various days-on-market brackets. For the purposes of this blog post, I'm just using single-family homes sold in the city of Atlanta. Below are the numbers:
Homes sold in 14 days or less in Atlanta:
2010: 919

2011: 922

2012: 1453
Homes sold in 7 days or less in Atlanta:
2010: 399

2011: 406

2012: 691
Homes sold in 3 days or less in Atlanta:
2010: 127

2011: 137

2012: 269
Homes sold in 1 day or less in Atlanta:
2010: 49

2011: 65

2012: 103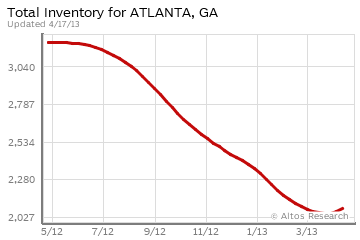 ...
!--more-->