Well, what seemed like Atlanta's worst winter in over 20 years is over, and spring has finally sprung. That means, among other things, that spring festivals are just around the corner in many Intown Atlanta neighborhoods. The first four major events kick off this weekend.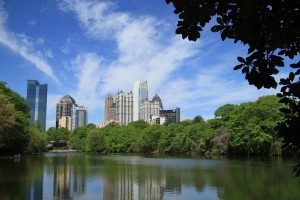 The biggest event this weekend is the popular Atlanta Dogwood Festival. Held at Piedmont Park in Midtown Atlanta, this annual celebration of the blooming of the Dogwood trees has been a perennial favorite in Atlanta for over 70 years. In the 1970s an art show was introduced to the festival, and the juried Fine Art Market has played a big part in the festival ever since. The 1980s saw the tradition of live music begin at the Dogwood Festival, and this year is no exception with well over a dozen acts playing this weekend.
Another fun even this weekend is the 6th annual Sweetwater 420 Festival, a two-day music and arts festival. It's free to attend and enjoy live music and activities, and $5 gets you a wrist band that allows you to buy all the wine and Sweetwater beer you can "responsibly enjoy." A portion of the proceeds go to back to the Candler Park neighborhood which hosts the event. A big part of the event is "Planet 420", which sponsors local, regional and national non-profits and environmental organizations. Exhibits and forums will be presented including diesel to grease demonstrations, ...
!--more-->