The streets of Atlanta and their special annoyances
Posted by Intown Elite on Tuesday, March 16, 2010 at 4:23 PM
By Intown Elite / March 16, 2010
Comment
House hunting can be fun and exciting, but it can also be frustrating at times, especially if you're in a strange new city. We love Atlanta, but if you're new to town, you'll have some special annoyances to get used to as you drive around the various Intown Atlanta neighborhoods shopping for homes.
Getting to know Atlanta can be difficult to the newcomer for a number of reasons. One of the first things you'll notice is that it's very common for the street that you're driving on to change names without notice. There are examples of this all over Atlanta; Monroe becomes Boulevard, Briarcliff becomes Moreland and E. Rock Springs becomes N. Decatur.
It can get even more confusing. In Midtown, Spring Street is one-way southbound, but in Downtown, Spring Street is one-way northbound! Don't worry, you don't have people crashing into each other, because Spring Street in Midtown isn't even the same street as Spring Street in Downtown. The southbound Spring Street in Midtown becomes Centennial Olympic Park Drive in Downtown. The northbound Spring Street in Downtown turns into West Peachtree in Midtown.
That segues nicely into our next pet-peeve: multiple roads with variations of the same name. And "Peachtree" is the most common example. According to Wikipedia, there are 71 streets in Atlanta with some version of "Peachtree" in their name. There's Peachtree Street, West Peachtree Street, Peachtree Road, Peachtree Drive, Peachtree Park Drive, Peachtree Circle, Peachtree Lane, Peachtree Walk, Peachtree-Dunwoody Road, and ... we'll, you get the idea. Peachtree is guilty of the previous annoyance too, in that it will change names. As an example, it's Peachtree Street in Midtown, but Peachtree Road in Buckhead, even though it's the same piece of pavement!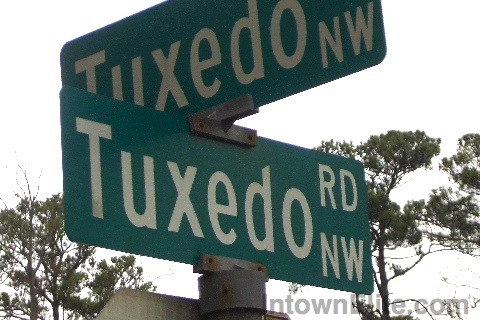 Here's something you won't hear in most towns, "It's on the corner of Briarcliff and Briarcliff." But that can happen all over Atlanta, thanks to the use of different suffixes, like "Road" and "Place." I don't know if it's lack of imagination or what, but it seems that they (whoever "they" are) have run out of names. So, one must be very careful in Atlanta to specify the suffix when speaking of a particular street (or avenue, or boulevard, or road, or place), although even that may not keep you safe. There is one spot in Buckhead where Powers Ferry Rd NW intersects with Powers Ferry Rd NW. How a road can intersect with itself, I'll never know.
Then there's the illogical numerical addresses. In most cities, "805 Peachtree" would be in the "800 block" of Peachtree, in other words near the corner of 8th and Peachtree. Not here! In Atlanta, 805 Peachtree is actually between 5th and 6th. Why? Who knows! All of this is exacerbated by notoriously poor signage throughout the city. In many cities, major intersections are well-marked with large, sometimes illuminated street signs that are suspended in clear view above the intersection along with the traffic lights. On most intersections in Atlanta, there is one, very small street sign on one of the four corners of the intersection. What fun it is trying to find which corner the street sign is located as you're trying to navigate an unfamiliar area.
Anyway, eventually you'll get used to the nonsensical labyrinth of streets that is Atlanta, and it will become second nature. Once that happens we're confident that you'll learn to love Atlanta as much as we do. And we really do!