Why IntownElite.com beats Zillow, Trulia, et. al.
Posted by Intown Elite on Friday, October 24, 2014 at 7:54 PM
By Intown Elite / October 24, 2014
Comment
When it comes to websites, bigger does not always mean better. That's certainly the case with real estate websites. I think most would agree that, aside for ease-of use, the most important aspect of real estate websites is the accuracy of its data. You want to see all the listings available for sale, and no "stale" listings that are no longer on the market. Nothing is more frustrating to a home buyer than either missing out on available listings, or finding out that awesome listing you're looking at actually sold 2 months ago. Unfortunately, those scenarios are all too common on Zillow, Trulia and similar sites. Meanwhile our website does not suffer the same problems, as I'll explain below.
First I'll explain the classification of real estate websites. Zillow, Trulia and similar sites are considered "aggregators" or "portals." They get their listings via an amalgam of sources, including various listing syndication services, manual entry by agents or home owners. Not every agent sends their listings to them, and there is no regulatory authority presiding over them to ensure timeliness or accuracy. By contrast, IntownElite.com is a brokerage site. As a licensed real estate brokerage, we are members of the local MLS service. As such, we get a direct feed of listings from the MLS, including listings of all other local brokerages (not just our own listings), through an arrangement called IDX, or Internet Data Exchange. This listing feed is updated in nearly real-time, at least every 15 minutes. So, when a new listing goes active in the MLS, it's on our site within minutes. Similarly, when a listing is marked "Contingent" or "Pending" (meaning under contract) or "Sold" in the MLS, that listing is indicated thusly on our website within minutes. And finally, when the listing expires, it is removed from our website within minutes.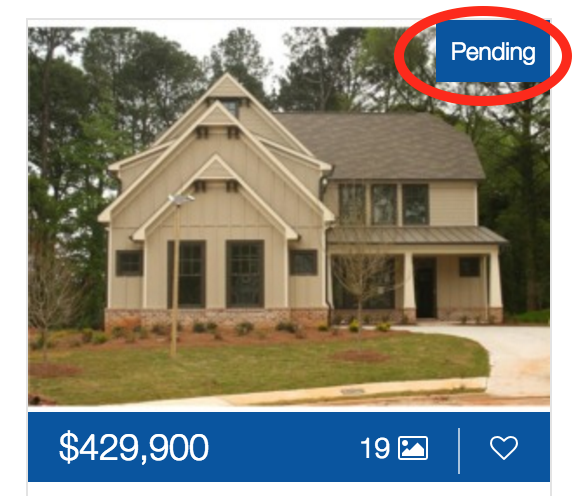 The status of listings on our website is updated in a timely manner per MLS and GREC regulations, unlike Zillow and Trulia. Two regulatory authorities make sure this happens. First, the MLS requires the listing agent to mark status changes of their listings in a timely manner. Failure to do so results in a fine. Secondly, the Georgia Real Estate Commission regulates the advertisement of properties, including internet advertising. They, too, will not allow the advertising of a property for sale after it's no longer the market. Failure to comply with GREC rules could lead to even greater consequences for an agent or broker, including fines, license suspension or even revocation. All agents and brokers in the state are subject to GREC rules. Zillow, Trulia, et. al., are not. For these and other reasons, brokerage sites like IntownElite.com have more timely and accurate information than the portal sites. But don't take our word for it. A study by real estate industry consultants Wav Group entitled The Accuracy of Real Estate Websites analyzed listings in 11 metro areas, comparing "portal" sites like Zillow and Trulia to websites owned by local brokerages. Here is what the study found:
The results of this analysis are that the local brokerage sites are considerably more complete, more accurate, and timelier than the national portals. In each U.S. city or area, all real estate brokerages contribute and share listing data. Only real estate brokers can be members of a local MLS. In contrast, national portals, such as Zillow and Trulia, mostly rely on individual agents and real estate brokerages to re-post their listings on the portal websites, or the portals aggregate data from syndicators of real estate information. Brokerage Sites Show 100% of the Agent-Listed Homes for Sale Each of the local real estate brokerage websites analyzed contained 100% of the homes listed for sale in the MLS. Portal sites contained just 79% to 81% of these listings—a fifth of the homes for sale did not appear on portal sites
In some metro markets, the portals had only 63 - 65% of the active listings, compared to 100% on the brokerage sites. More from the study:
Brokerage Sites Show Newly-Listed Homes 7 to 9 Days Faster Local brokerage sites get home listings from direct feeds provided by the local MLS. In most cases these feeds are updated every 15 to 30 minutes, which allows homes to appear on local brokerage sites as soon as they are listed by an agent. Portal sites obtain their listings from a variety of sources: individual brokerage feeds, third-party listing aggregators, and direct entry by agents. The median delay between when a home was listed on the MLS and when it appeared on the portal sites was nine days for Trulia and seven days for Zillow.
Brokerage Sites Correctly Remove Homes No Longer for Sale Since local brokerages update the data on their sites with new information from the MLS as often as every 15 minutes, when a home buyer searches a local brokerage site, there are little to no results that are outdated and no longer for sale. On portal sites, over a third of the results are not really for sale.
That's right, the study found that on Zillow and Trulia, over a third (36%, to be precise) of the properties listed for sale are actually not! So lets tally it up:
Zillow, Trulia, et. al.

A fifth of "for sale" listings missing
New listings not displayed for 7 to 9 days later
Over a third of the listings are no longer for sale

IntownElite.com

100% of homes listed for sale in the MLS*
New listings displayed within minutes.
Off-market listings removed rapidly
*It is possible for a seller to opt-out of internet advertising altogether, however if they did, they wouldn't be on Zillow or Trulia, either. In reality very few sellers in the MLS opt-out of internet advertising. Would you?
So, when you take all of that into account, along with their notoriously inaccurate home value estimations, when shopping for homes for sale in Atlanta there's really no reason to look anywhere other than IntownElite.com.