GREEN BUILDING PROGRAMS:

EarthCraft House - Started in 1999, EarthCraft House is a residential green building program of the Greater Atlanta Home Builders Association. The program serves as a blueprint for energy and resource efficient homes, leading to healthy comfortable homes that reduce utility bills and protect the environment. The goal of the program is to help home builders be leaders in smart growth management and environmental stewardship. EarthCraft House guidelines address energy efficiency, durability, indoor air quality, resource efficiency, waste management, and water conservation.
Energy Star Homes - ENERGY STAR is a joint program of the U.S. Environmental Protection Agency and the U.S. Department of Energy designed to save Americans money and protect the environment through energy efficient products and practices. To earn the ENERGY STAR, a home must meet guidelines for energy efficiency set by the U.S. EPA. These homes are at least 15% more energy efficient than homes built to the 2004 International Residential Code (IRC), and include additional energy-saving features that typically make them 20–30% more efficient than standard homes.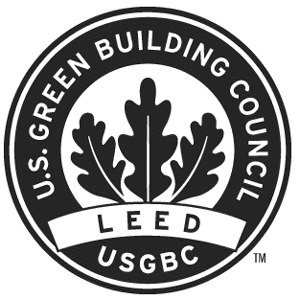 LEED - Leadership in Energy and Environmental Design (LEED) is Green Building Rating System developed by the U.S. Green Building Council (USGBC). LEED encourages and accelerates global adoption of sustainable green building and development practices through the creation and implementation of universally understood and accepted tools and performance criteria. LEED is a third party certification program and the nationally accepted benchmark for the design, construction and operation of high performance green buildings. LEED promotes a whole-building approach to sustainability by recognizing performance in five key areas of human and environmental health: sustainable site development, water savings, energy efficiency, materials selection and indoor environmental quality.

NAHB Green Building - The National Association of Home Builders' (NAHB) Green Certified mark is the homebuyer's guarantee that the home was built according to one of the levels of green outlined in either the ICC 700-2008 National Green Building Standard or the NAHB Model Green Home Building Guidelines. The National Green Building Standard is the first residential green building rating system to undergo the full consensus process and receive American National Standards Institute approval. The standard allows builders to achieve various levels of green building, signified by Bronze, Silver, Gold, and Emerald. The highest level of sustainable "green" building incorporates energy savings of 60% or more.

WalkScore - Although not a green building program per-se, WalkScore is certainly worth mentioning in this context. As the name suggests, WalkScore is a way to help home buyers find a walkable place to live by measuring how easy it is to live a car-lite lifestyle. Living in a walkable location promotes better health, reduction in greenhouse gas, more transportation options, increased social capital and stronger local businesses. It works by measuring the distance from a particular residence to nearby amenities, such as grocery stores, restaurants, parks, libraries, shops, etc. From this information a WalkScore is calculated on a scale of 0 to 100. Under 50 represents "car dependent", 50 to 69 is "somewhat walkable", 70 to 89 is "very walkable" and 90 to 100 is a "walker's paradise." Each listing has a WalkScore map on its detail page, showing you how walkable it is and what's nearby.